Special Offers
Promotion Period: Until 2020-08-15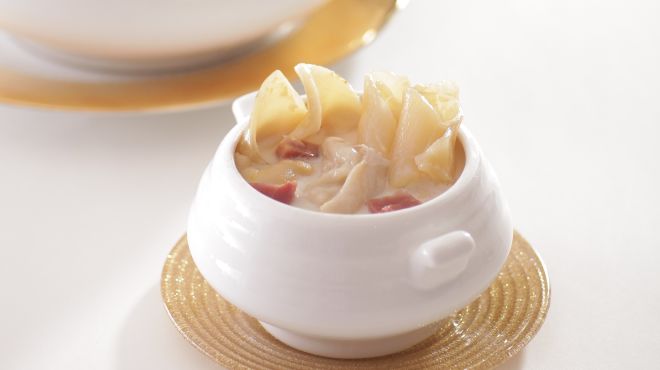 Skip the queue and savour delicious takeaway bento boxes from Cafe Lagoon, Satay Inn and Michelin-recommended YUÈ in the comfort of your own space. Receive complimentary soft drinks with purchases of two bento boxes and above.
25% discount will be offered to all takeaway bento boxes and a la carte menu.
Online Ordering For Bento Boxes
Order Now – For Sino Club Members
Order Now – For iPrestige Members
Party Takeaway Menus
Exclusive Offers for Sino Club and iPrestige Members
A complimentary dessert from the "additional offer" selections (HK$28 each) with a single order of minimum 2 bento boxes of lunch or dinner.
A complimentary daily nourishing soup (HK$38) for a la carte order at HK$250 or above per transaction.
Additional Offer:
Enjoy a signature dessert at a special price of HK$28 or daily nourishing soup with an additional of HK$38 for any purchase of the bento boxes.
A complimentary Coke or 7UP per bento box with a minimum order of two bento boxes per transaction.
Logistic and Points to Note for Takeaway Service:
Please complete the order form and indicate the pick-up time, then email to the designated restaurant for order placements
Lunch - Order time: 10am to 11am / Pick-up time: 12nn to 1pm
Dinner - Order time: 4pm to 5pm / Pick-up time: 6pm to 7pm
For reservations and enquiries, please contact us at:
Cafe Lagoon: +852 2452 8448 / Email: cafelagoon@goldcoasthotel.com.hk
Satay Inn: +852 2452 8822 / Email: satayinn@goldcoasthotel.com.hk
YUÈ: +852 2452 8668 / Email: yue@goldcoasthotel.com.hk

Terms and Conditions:
Menu items are on a rotation basis.
Cannot be used in conjunction with any other promotional offers.
The above menus are for self pick-up only.
All photos are for reference only.
In case of any disputes, Hong Kong Gold Coast Hotel reserves the right of final decision.
In the event of discrepancy or inconsistency between English and Chinese versions of these terms and conditions, the English version shall prevail.