The Hong Kong Gold Coast Hotel has an outstanding array of indoor and outdoor facilities designed to provide the ideal environment for your planned activities. From active team building competitions on our Ropes Course to purpose built children's play areas like our Indoor Kids Zone, Outdoor Kids Island, Sand Pit and Water Park - guests can chill out by the pool, work out in the gym or enjoy events and markets hosted in the Gold Coast Square.
Green Facilities
Hong Kong Gold Coast is committed to sustainable development and thereby has launched the "Gold Coast Green Journey", in which a comprehensive scale of environmental protection measures has been implemented, including the installation of solar panels and smart water dispensers. In addition, an all-round green educational experience has been introduced to encourage green living, which includes the first Green Upcycled Room in Hong Kong, Gold Coast Green Journey Experience Programme, Gold Coast Farm and Tree Hunt Game.
Mini Train Ride
Choo choo! Hop on Hong Kong's first hotel outdoor mini train and enjoy a scenic ride around the beautiful outdoor gardens. Running at a kid-speed pace, the two-wagon trackless train is wonderful entertainment for children aged between 3 and 9, making little train lovers' dreams come true.
Fees
Staying Guests: HK$40 / session
Non-staying Guests: HK$60 / session
*Mini train ride service is subject to weather conditions and outdoor events and may be cancelled without prior notice.
Gold Coast Ziplines
Hold on tight and enjoy the ultimate zipline adventure. The Gold Coast Ziplines are equipped with two length options for adults and kids.
Fees
Staying Guests: HK$40 / one ride each for the two ziplines
Non-staying Guests: HK$60 / one ride each for the two ziplines
*Advance reservation is required. Rules and regulations apply. Service is subject to weather conditions and outdoor events and may be cancelled without prior notice.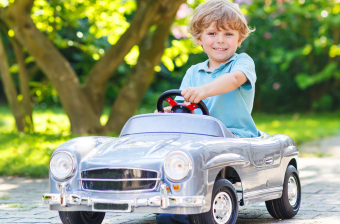 Outdoor Driving Adventure for Kids
Enjoy a driving experience at our new outdoor inflatable race track with electric cars whereby little drivers can learn basic road rules, sense of direction as well as hand-leg coordination.
Opening Hours
Saturday, Sunday and Public Holidays
10:00am – 12:00nn and 2:00pm - 6:00pm
Fees
Staying Guests: HK$40 / 15mins
Non-staying Guests: HK$60 / 15mins
*Activities will be subject to weather condition or hotel events and may be cancelled without prior notice.
Water Park (2,368 ft2 Ι 220 m2)
Located next to our swimming pool, the new Water Park is the perfect splash course for the summer months. Featuring colourful water sprayers, tower showers, aqua arches, bucket soakers and floor fountains, it will be impossible to stay dry as you have fun navigating the course.
"Sharks and Pirates" Adventure Zone
Enter the world of an enchanting sea where dazzling entertainment awaits. Welcomed by a gigantic shark at the reception area, young guests will be amazed by an interactive ocean illuminated with LED projection where sea animals are vividly shown every time you step into the area. A dedicated pirate-themed Arts and Crafts Corner provides an area for children to be artistic while the indoor rock climbing wall challenges the energetic crowd.
Adventurous kids can either dive into the shark obstacle zone, or jump into the adjacent authentic pirate play experience of a wooden ship equipped with kids-scale suspension bridge, portholes and climbs. Revel in the "Yellow Submarine", a private room ideal for marvelous birthday parties.
Fees
For One Child and One Adult*
Staying Guests: HK$100 / 50 minutes
Non-staying Guests: HK$150 / 50 minutes
Charge per Additional Adult
Staying Guests: HK$50 / 50 minutes
Non-staying Guests: HK$80 / 50 minutes
- For safety reasons, each child must be accompanied by one adult guardian when entering and using the facilities at Sharks and Pirates Adventure Zone.
* One complimentary session will be offered for bookings of room packages listed under the "Special Offers" web page (except Chill Out Package).
Outdoor Kids Island (6,028 ft2 Ι 560 m2)
Encouraging interactive play, youngsters from 5 to 12 years old are welcome at the Outdoor Kids Island. Featuring a host of lively activities, including oversized slides, ropes and spinners, the park is designed to keep energised youngsters fully engaged.
Sand Pit
Dig, discover and enjoy sensory play in our sand pit! With two sand diggers to manoeuvre, children can create sand piles and spend hours of fun using our exciting range of sand tools and beach toys.
Pools and Waterslides (7,632 ft2 ; 709 m2)
Our palm-fringed outdoor pools are centrally located in the heart of the resort. The main pool sized at 4,435ft² (412m²) provides ample swimming space, while our smaller 3,200ft² (297m²) pool is designed to welcome families with young children and features two water slides. Guests can soak up the atmosphere as they relax on their deckchairs, order a drink and laze away the hours by the calming water.
Gymnasium
Our well-equipped gym includes cardio and strength-building machines to help you maintain your workout regimen. With sky lights welcoming natural sunlight into the space and views of the surrounding greenery, guests are encouraged to stay a little longer to reach their personal best.
Gold Coast Farm
Let's go green! Our Gold Coast Farm produces a variety of vegetables including beetroots, carrots, sweet potatoes, corns and peanuts. Learn more about the organic and eco-friendly cultivation practices we use, which help to nurture the soil and provide healthy and nutritious food.
Gold Coast Piazza
The Gold Coast Piazza is a relaxing open-air mall with a repertoire of dining and shopping options. It comprises essential facilities and services including a supermarket, a convenience store, laundry services, education centers, beauty and barber shops and cash machines. It is the perfect meeting place for coffee or having dinner in one of the many alfresco dining restaurants including Chinese, Indian, Thai, Middle Eastern and Italian cuisines.
During the holidays, the piazza is transformed into a beautifully decorated celebratory space where friend and family can gather and enjoy the festivities together.

Golden Beach
Golden Beach is the largest public beach in Tuen Mun spanning half a kilometre in length, and sits just in front of the hotel. With its silky soft sand, barbecue area, volleyball court, changing facilities and year round lifeguard service; the beach should feature on the itinerary of all beach lovers.